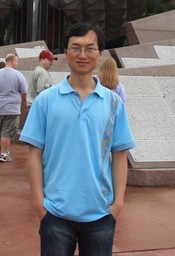 Education
| | | | |
| --- | --- | --- | --- |
| Ph.D. | 08/2010 | Industrial Engineering | University of Wisconsin Madison, Madison, WI |
| M.S. | 05/2010 | Statistics | University of Wisconsin Madison, Madison, WI |
| M.S. | 05/2009 | Computer Science | University of Wisconsin Madison, Madison, WI |
| B.S. | 07/2006 | Automatic Control | Tsinghua University, Beijing, China |
Working Experiences
08/2006-08/2010
Research Assistant, Department of Industrial and Systems Engineering, University of Wisconsin, Madison, WI.
03/2006-06/2006
Research Intern , Microsoft Research Asia, Beijing, P.R.C.
Selected Publications
Chen, N. and Zhou, S., 2009,

"Simulation-based estimation of cycle time using quantile regression", under revision with

IIE Transactions

.
Chen, Y., Li, Z., Zhou, S., and Sievenpiper, C.,

"Optimal variability sensitive condition-based maintenance based on system event logs", submitted to

International Journal of Production Research

.
Loose, J., Chen, N., and Zhou, S., 2009, "Surrogate Modeling of Dimensional Variation Propagation in Multistage Assembly Process",

IIE Transaction

, 41(10), 893-904.
Chen, N. and Zhou, S., 2009, "Detectability Study for Statistical Monitoring of Multivariate Dynamic Processes",

IIE Transactions

, 41, 593-604.
Chen, N. and Zhou, S., Chang, T. and Huang, H., 2008,

"Attribute Control Charts Using Generalized Zero-Inflated Possion Distribution"

,

Quality Reliability Engineering International

, 24(7), 793-806.